PC & Workstation Support
Have you ever lost a document you were working on? Had trouble accessing the internet? Had your computer crash? Or your printer refuses to print?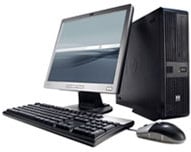 Getting help with computer problems no longer means endless waiting on hold with a suppliers' technical support or paying a fortune for someone to visit you at their convenience.
We are a unique computer support service. Members enjoy a comprehensive and economical range of user-friendly computer support services that will ensure you are never stranded with a computer problem again.
Our Desktop Assistance is a team of highly skilled and qualified computer engineers who can attend your home or business to fix problems that cannot be solved over the phone.
Our computer engineer will arrive armed with knowledge of your problem and the appropriate software tools to provide an exceptionally fast, well articulated solution to the problems at hand.
The computer engineer will make use of your call history and the advice of the support team to minimize the cost and disruption to you. Our computer engineers are trained to deliver solutions in friendly, accessible language and to help you avoid recurrent problems by advising you of preventative strategies.
What's Our Secret?
We are determined to deliver exceptional support services to each of its members.
Our proprietary software provides us with information about your computer setup so that when you call with a computer problem, we know how to fix it quickly and we get it right.
News & Events
Whitehats signs the AMC with Kenneth Laidler Design
Whitehats provided on site support to CMA CGM Systems
Whitehats signs the AMC with EBARA Middle East
Successful networking and server Installation project for Levant Capital
Testimonials

I have known White Hats for the past four years now. They are very reliable IT Company efficient in their work and you could have them at your beck and call anytime.
Besides their staff are very co-operative and accommodating


Renate Fernandes | Office Manager

Recent Blog Post
Social Media Marketing :The latest revolution