Apple Mac Setup and Installation Solutions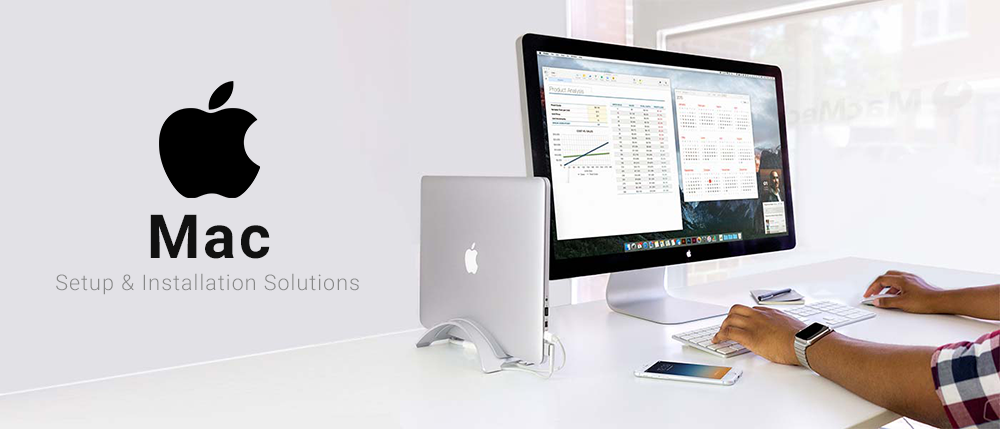 Our team of qualified apple support specialists and technicians is available to provide you best in class Apple Repair and Support services in Dubai and the surrounding areas. We have the skills and expertise to provide support for all types of Apple Mac devices and models including iMac, Mac Pro, MacBook Pro, MacBook Air, iPad and other mobile devices. Whether you are looking for complete Apple Mac support service with regular maintenance, project and implementation support or occasional ad hoc services to assist your internal IT staff, Whitehats is definitive choice for all your Apple Mac problems and support needs.
Whitehats Mac Repair Dubai service includes resolving Mac startup problems, Virus and malware removal, Data Recovery, New Apple Mac computer and TV setup, Operating system Installation and troubleshooting etc.
Be it onsite or remote our Mac experts can perform repairs quickly by installing 100% genuine apple parts where needed.
In case you are looking for better performance from your Apple Mac computer we can help you by performing a complete health check. This will ensure keep your Mac running efficiently and prevent problems before they cause any harm to your computer. We can also improve Apple Mac speed, increase storage capacity and upgrade operating systems so you can enjoy better user experience.
Our approach to apple mac repair significantly differs from others as we only focus on repairing the damaged or malfunctioning parts that significantly reduces the costs for clients. As soon as you give us a call, Whitehats` s team of Dubai`s Macintosh specialists is always ready to assist you with Apple Mac Repair, support, upgrade and troubleshooting.
Apple Mac Diagnostics and Repair.
Just like other computers, Apple Mac may also get problems. Whenever something is wrong with your iMac, MacBook or Mac OS X Server,  you can call us and we will diagnose the problems at your location as early as possible.  Our Apple MacBook repair service deals with all types of the issue including but not limited to
Startup or Power issues.
Heating problems or Noisy fans.
Unresponsive, Frozen or White screen issues.
Slow or Sluggish nonresponsive system.
Cracked Screens.
Broken Screen Hinges and Broken Connectors.
System OS problems, Software and Security issues.
You can also call us for any other problems not listed above. We can diagnose the problems, determine the fault and discuss the most feasible solutions with you. We offer both remote and onsite Apple Macbook repair to solve all types of problems.
Apple Mac Data Recovery and Hard Drive Replacements.
Your Apple Mac hard drive suffers from wear and tear over time. As you continue to copy and delete new files on it, the drive can fragment and start failing. If you don't have data backup in place, you may lose important data due to hard drive failure. In case you MacBook is no longer booting or you have accidentally deleted files then you can help you to recover data from it. 
Our Apple Mac data recovery and hard drive replacement service include.
Data Migration from dead hard drives.
Data Transfer from Pc to Apple Mac computer.
Remove the hard drive and Rebuilt Mac with fresh OS installation.
Regardless of model and type of your Apple Mac computer, we can recover all data and transfer it to new internal or external hard drive. We first try to bring the hard drive back to life and if it is no longer functioning correctly then we can replace it and migrate your data onto a new hard drive.
Apple Mac Upgrades.
Is your Mac is running out of space? Or you want to make it work faster? Then Apple Mac hard drive, memory or OS upgrade might be the solutions. Whether you need a software update, storage capacity increase or RAM upgrades, we can help you with it.  You may even consider upgrading the graphics card to make it compatible with the latest games or boost performance with the installation of the latest OS X operating system.
Our services Apple Mac upgrade services include
PC/Operating system health check and performance optimization.
Hard Drive upgrades.
RAM upgrades.
Operating system upgrades.
It is usually possible that we can give a new makeover to your old mac through system upgrades. You can contact us for more information.
New Mac OS installation and System Rebuild.
If you are facing some common problems like startup issues or your Mac is performance is going down day by day then it might be due to Operating system corruption. The appropriate solution to such Apple Mac problems is often installation of the fresh operating system. The installation of third-party programs or system directory fragmentation can often result in OS problems. At Whitehats, we can back up all your data format hard drive, and install a fresh operating system to rebuild it from scratch.  As a result, your system will perform faster and better without any errors or problems.
Screen Replacements.
Is your Apple Mac screen has dead pixel problems, showing bad colors with lines, or has cracked due to any reason? We offer complete Apple Mac screen replacement service where we remove faulty LCD screen and replace it with a new one to get it working and running again.   In some cases, the display problem is not due to your screen but graphics card that is malfunctioning. In such a situation, we can replace the graphics card with a new one to solve Apple Mac display problems.
Liquid Damages.
Have your Macbook suffers a liquid spill? Then time is crucial, and quick action will be required to increase the chances of a successful repair. If you have an accidental liquid spill on Macbook then you must immediately turn it off and don't try to turn in on again at your own. You must give us a call and we will evaluate the damages and in case it is not repairable, we will recover the important data from it.