PC & Workstation Support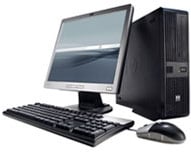 You want a continuously performing workstation? You want your PC to never hinder your deadlines? You want a team of IT professionals to provide your company with IT help for your PC & workstation support? Whitehats is there to help you out with its prolific support services in Dubai and even anywhere in UAE.
We have hands-on experience in on-site pc support dubai computer repair not only in Dubai but all around UAE as well. Either you are a large corporate or SME, we provide support services in UAE which are both onsite and remote, depending upon your choice or emergency of your needs.
Expertise of Whitehats professionals is not limited to PC or laptop repairing but we also deal in IT support for all kind of PC related hardware and software. Some of the other scenarios for which Whitehats can be contacted are
Windows malfunction
Booting Issues
Internet connectivity
Printer connectivity
Scanner issues
Software installation
Anti-virus updating and registration
Some of the important features of our PC & workstation support include
Preventive maintenance Services
No restriction of hardware & Software
Localized Support
We also provide preventive maintenance services to our customers because as the phrase goes Prevention is better than cure, it is better to have your PC & workstation equipment checked on regular basis. We provide such service both on daily and monthly basis according to the demand of our clients.
Another edge of working with Whitehats is that our services are not bound by any specific set of hardware or software. Our team of IT engineers includes experts who can deal with equipment and software from any vendor. So no matter if you have a HP or dell laptop, our certified IT professionals will take care of that broken machine. Whether you have a Windows or Mac OS or Linux installed into your system, feel free to contact us for repairing services. Our talented engineers carry certification and experience to provide you services in any of OS or hardware you are using in your company.
We also have satisfactory proficiency of dealing in the form of Localized support. We know that being an international hub of corporate & financial world, Dubai and UAE have offices from different nationalities. We work according to the hardware and software demands of the equipment installed in all such offices and provide a very handy Localized support.
Try Whitehats with confidence because satisfying our clients with impressive services is an aim that we take very seriously.