Bigant (Chat Solutions for Business)

Whitehats always bring valuable solutions and best technology products which suits the organization's needs. This time Whitehats having a partnership with BigAnt (Chat Solutions for Business).
BigAnt Office Messenger, an ideal cooperate IM product for your group.
BigAnt messenger has a history of more than 8 years continually improved, features with 128bit encrypted messaging and file sending, clear structured on-line user list, and more
Easy to use
Instant messaging
Group Discussion
Remote desktop
Broadcast message
Voice/Video chat
Send file/folder
LiveChat on website
BigAnt Document Management
BigAnt Messenger for Enterprise
A secure corporate instant messaging system, both instant messaging server & client included.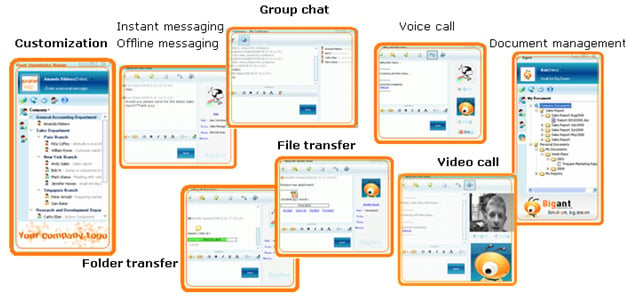 Internet & LAN Support

BigAnt Messenger allows all network users to communicate in a fast effective manner and improve business productivity regardless you inside the company or get out of office.
Bigant Server/Client
BigAnt Server Features
Create and manage user accounts
Assign roles
Support Active Directory/LDAP
Support VPN
All transferred messages and files are encrypted
Send broadcasting message
Enable/Disable client voice and video chat
Integrate existed plug-in application with BigAnt IM
View/search/export history message
Show online users
Custom and apply company logo, name on IM client
Web Based Live Chat module
Ant Document Management Module (Pro version)
Store and manage working documents
Assign access permissions
View message log
BigAnt Client Features
Instant/Offline messaging
Read message alert
Group messaging
Send message to a customized group
Password-protected messaging
View/search/export history message
Web based live chat
File transfer/forward
Folder transfer/forward
Right-click Quick Send
Voice chat and video chat
Screenshot
Ant Document Management Module (Pro version)
Access and manage working documents
Create personal documents folder
Share documents
Post/Manage Bulletin Message (Pro version)
Remote Desktop