MDM Apple Solutions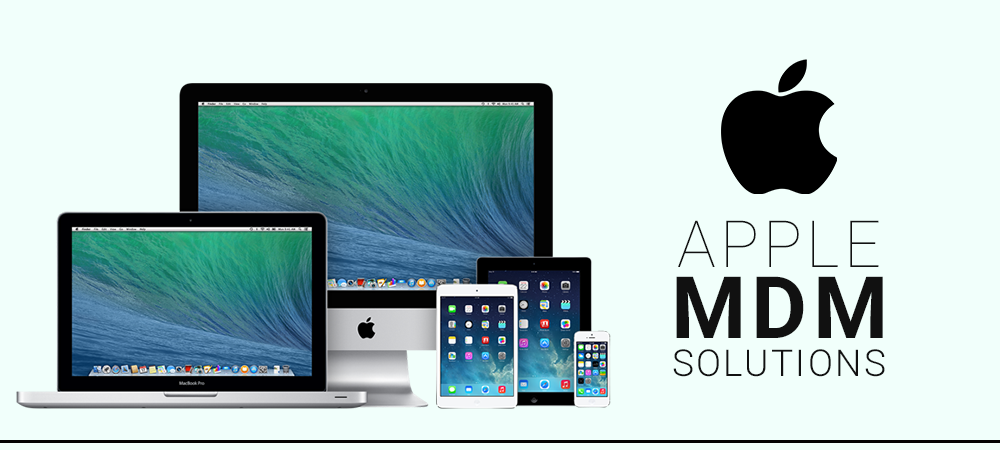 Apple products are increasingly becoming an integral part of business operations, where employees are using it for better connectivity, enhance productivity and increased profitability.  
Both iOS and macOS have built-in mobile device management (MDM) capabilities that in conjunction with third-party MDM solutions can help you configure devices deploy apps, and over the air remote management of devices.  As MDM has become an essential part of any deployment, you will need solutions that are designed as per your needs and requirements.
At Whitehats, we have designed MDM solutions that can help to integrate your mobile devices with business strategy for better collaboration and communication. It can transform your business potential and enable you to get most out of your enterprise without compromising on the security.
Apple Device Enrollment Program.
Our MDM solutions perfectly integrate with Apple`s Device Enrollment Program (DEP) that means you can assign apple devices to mobile device management servers quickly and rapidly. It will also make it possible for you supervise devices that are automatically enrolled. In addition to that, you can configure devices as per your business requirements through admin control without any problems. Because security remains our top priority, Users will not be able to alter configuration, access supervisor privileges or silently push apps.  As a result, users get what they need while the network remains secure.
BYOD
This is inevitably the era of BYOD (Bring your own device) as more and more employees want to use their own Apple devices with them to perform different tasks assigned to them by their employers. This can be valuable for businesses like you because it will improve employees' productivity by allowing them to keep the device with them all the times and use it for work purposes at their comfort. However, where it may reduce the costs associated with buying devices and equipment, it poses a challenge to manage them at the workplace. With our MDM solutions, you can implement BYOD policies easily while providing employees a secure environment to access enterprise network.
Corporate Owned Devices
In Case you use Apple devices in your business, our MDM solutions can help you to keep complete control over both onsite and remote devices. It also includes management of different apps, corporate emails and security policy enforcement from centralized admin control panel. Your administrator can enroll all Apple corporate devices in bulk, set policy constraints, perform updates, monitor devices and even disenroll devices so they can be retired or reissued to another user.
Volume Purchase Program
Apple Volume Purchase Program allows you to buy apps that your business needs in volume and send them to all connected Apple devices giving everyone access to it. You can make these purchases from Apple stores, or even custom B2B apps from third-party developers. At Whitehats, our MDM solutions will streamline this purchase process and manage distribution making administration tasks easier and quicker.
Location Tracking
One of the most important aspects of device management is keeping both devices and networks secure from unauthorized access. To make it possible our MDM solutions allows remote monitoring of device locations that are tied to your system. It means administrators will be able to determine where a device is being used or where it may have been misplaced.
Easy and Quick Device Enrollment and Management.
Our Apple MDM solutions come with various options through which you can enroll Apple devices quickly and easily. We always ensure to keep user-friendliness as a high priority so you can even perform this task without having physically to connect these devices to a computer. In addition to that, you can create user profiles, set security enabling your employees to be productive and connected all the times. You will never have to lock down or disable any functions in order to manage devices.
Centralized Web-Based Management.
Our Apple MDM solution is designed to make it easier for you to enroll, configure and monitor each and every device within your network from one centralized location. In addition to that, all of these management tasks can be performed through web-based control panel. There is no need of physical connection to the device and everything can be done over the air while remaining in the background.  The administrator can remain in full control of devices regardless of where they are on the network while devices are managed without physical access.
Remote Device Configuration.
When it comes to devise configuration, our Apple MDM solution offers complete hands off at all stages of device management including configuration and settings. It comes with a centralized console for administrators that are used to completely configure any mobile devices that are connected to the same network. You can remotely set corporate policies, deploy apps, and restrict access to device whenever needed.
App Management.
With our Apple MDM solution, you can remain in control of apps that are available on connected devices. The main purpose of this feature is to allowing access to the required apps in a secure way while restricting them from using apps that are not needed or may distract employees. So you can easily ensure that your employees have access to the apps they want.
Manage device password policies.
Many organizations that enforce overly complicated password policies create lot of troubles for their employees. On the other hand, if password policies are not implemented effectively, it can lead to data breaches, hacking and malware infections. Whitehats Apple MDM solutions can streamline the entire process so you can customize password policies as per your requirements and get the level of security you need.
Disable/Restrict device features.
A device that is loaded with a number of different features can be great asset for employees productivity, however, sometimes there are certain features that are not in compliance with corporate politics. Our MDM solution will allow you to disable any features from employees devices such as Camera, Microphone, Siri and others etc.  In case other apps like Youtube, Facebook, Twitter or social media networking can also be restricted at per your choice. All of this can be handled through administrative control panel remotely.
Compliance check and enforcement.
We believe MDM solution is incomplete without offering the ability to check devices for the compliance. The real-time monitoring of devices with MDM ensures that the configuration and policies are always in complaince. You will be able to get quick notification for any non-compliance issues. It will also have the ability to force device for compliance automatically. All of these compliance features means better control and security of your entire infrastructure.