VPN Connectivity Solutions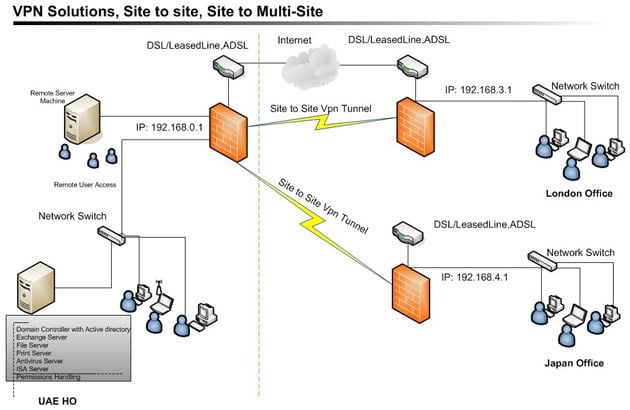 You have an offshore branch that you want to manage from your head office? You worry that communication between several offices of your company is not secure enough? You think that there must be integration and closer communication among several departments of your company that are present at some physical distance from each other? It's time that you start considering to use VPN services from Whitehats.
VPN stands for Virtual Private Network and it provides you access to your office's network resources from any location of your choice. In simple words, even if you have an office at some physical distance, you can always have a connection with all its members and equipment through internet or networking.
There are various VPN solutions available from Whitehats like
Site-to-site connectivity
Site-to-Multisite connectivity
Site-to-site connectivity allows communicating with another office and vice versa. Site-to-Multisite connectivity solution is for those companies who want to establish VPN among their headquarters and their various other offices. It can be a financial institution, a government run organization, a chain of restaurants or schools. In short, all you have to do is contact us, tell us your requirements and our experienced and qualified staff of engineers will do the rest. All the required infrastructure and equipment will be installed according to your needs.
Our team of professionals has experience in all the configurations of connectivity like
DSL
ADSL
Dial-up
3G/4G
Cyber
GPRS
We even offer several VPN solutions like
To cut a long story short, we have all the expertise you might require. All you need to do is to tell us what you want and Whitehats will be more than happy to do the job for you.