Hybrid PBX Solutions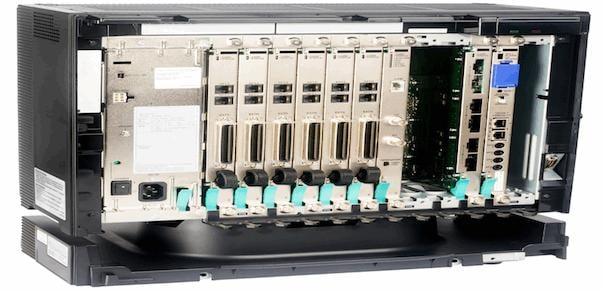 Digital PBX Solutions
The digital telephone systems offer modern design with a lot more features and added value. You can add to them analog, digital and IP phones. Some of the most important features offered by Digital PBX include integration of VoIP, music on hold, and alarm systems. They come with an IP interface through which you can enjoy unified messaging or seamlessly deliver voicemails.
These are two of the most widely used Digital PBX system brands that we offer to our customers.
Panasonic Telephone Systems
The Panasonic telephone systems give you complete freedom to configure the entire system while supporting features like automatic fax transfer, pause insertion, and call management. Small and medium sized business organizations would find these telephone systems very useful with the capability to support dozens of extensions. The scalability of these systems gives you the freedom to add new users without facing any problems.
Given below is the list of Panasonic Digital PBX Systems.
Panasonic KX-824 PABX System
Panasonic TDA100 PABX System
Panasonic TDA200 PABX System 
Panasonic TDA600 PABX System
Panasonic TDE100 PABX System
Panasonic TDE200 PABX System
Panasonic TDE600 PABX System
Panasonic KX-NS500 IP PBX 
Panasonic KX-NS1000
Panasonic TVM PABX Voice Mail
NEC Telephone Systems
NEC telephone systems provide you with a good alternate for implementing a Digital PBX system. They are equipped with functions to match the most emerging needs of a modern business organization. SMEs can find NEC telephone systems pretty handy. These telephone systems can help improve employees' communication environment. The availability of hybrid ports ensures seamless integration with multiline terminals without requiring complex settings.
Given below are the Digital PBX Systems of NEC.
NEC SL-1000
NEC SV-8100
NEC SV-8300