Security Camera Installations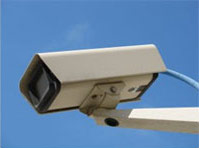 You are thinking to beef up security at your offices? You want to install CCTV cameras within your office to keep an eye on your employees from an offshore office? You want security cameras installed in your premises to increase safety of your assets and workers? You are in need of a company who has enough experience in the field of security camera installation in Dubai or in UAE? Whitehats is the company that you can trust for all such operations as we have both experience and team of professionals to complete all tasks related to security camera installation and maintenance.
Whitehats is proud of its ability to operate and setup security cameras available from all the major vendors and manufactures like
Samsung
Camscan
Panasonic
I-Lux
Qline
Pixel view
We can also mount cameras from any preferred vendor of our client's choice as we are not restricted in our expertise, thanks to our diverse team of IT engineers. You can trust Whitehats for quality work of camera installation anywhere in Dubai or in UAE. We have staff that takes pride in providing the best services than anyone else in the market.
Depending on the requirements of our clients we can setup a security system which can have multiple features as
Intercoms
Biometric verification devices
Video surveillance
Access Controls
IP cameras
Matrix Switches
Video analytics
Multiplexers
We can also add any other feature or accessories as per the demands of our clients because after all it is the security of their assets that we aim to ensure. Whitehats IT professionals are qualified enough and carry impressive track record which guarantees that the Security camera installation is going to be top-notch.