Whitehats - Cloud Service Provider for Acronis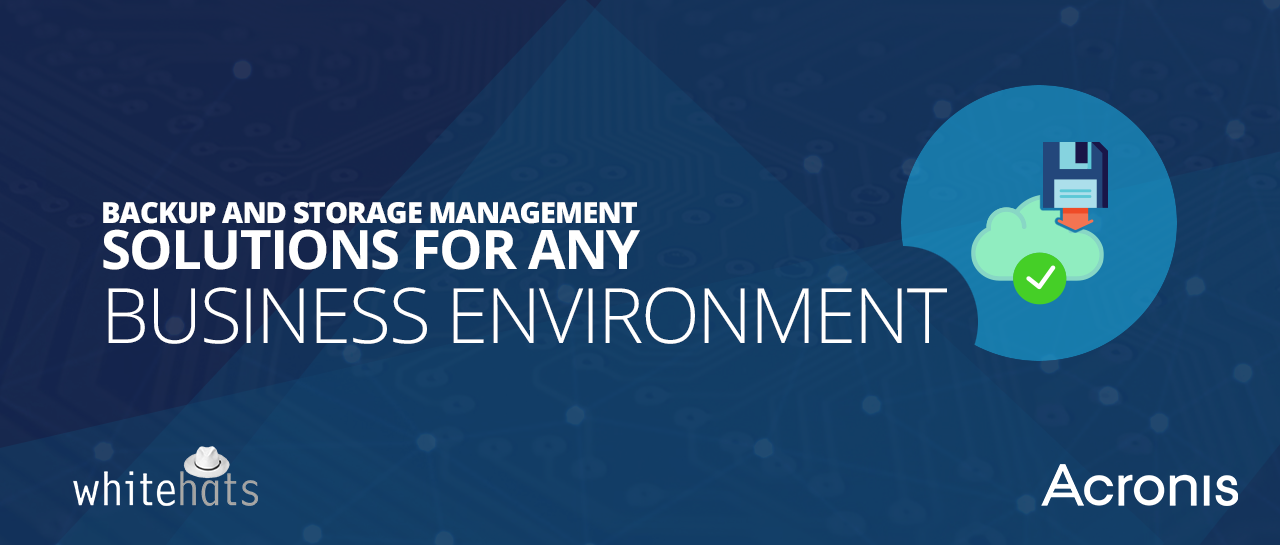 DUBAI, United Arab Emirates – Feb 15, 2017: Whitehats, one of the largest Cloud IT Solutions & Services providers in Dubai UAE, has today announced a Cloud Service Provider Agreement with Acronis, a global leader in Cloud Data Backup & Recovery Solutions for physical, virtual and cloud environments. With this agreement, Whitehats become the exclusive authorized partner for the range of Acronis Cloud products for customers & reseller partners in the MENA region.
Data backup has been a key challenge for businesses, due to the need of continuous monitoring, performance optimization, and management - resulting in a sharp increase in operational overheads, putting further pressure on tightened Technology budgets. With this in mind, Whitehats offer cloud "Backup as a Service" (BaaS) to protect data across agnostic systems with a simple and easy to manage real-time, web-based console. Whitehats is currently the only approved Acronis service provider that is able to design affordable Cloud Backup and Recovery plans, tailored to the needs of SMBs, SMEs, and large enterprises.
"At Whitehats, our primary goal is to provide our customers greater peace of mind by offering them worldclass, unified solutions to replicate and recover their critical data systems to cloud data centers based in the Middle East. This agreement shows our continued commitment to addressing the growing needs for businesses to protect their data assets and provide them access to leading global solutions. Whitehats is proud to be aligned with the leaders of the UAE in their Strategy for the Future in the realm of technology", said Mr.Rizwan Sabir, General Manager, Whitehats. "
Mobility and remote access of mission-critical data are quickly becoming part of every business environment, which brings a greater threat of data damage or loss due to single point of failures. The "always-on" demands of businesses and consumers, means that any system failure can be highly damaging to brand and reputation and result in heavy financial losses. Contingency planning and alternative data backup storage is therefore crucial and essential.
Whitehats data cloud backup and recovery solutions, powered by Acronis, eliminates traditional upfront capital investment, and comes as a welcome relief to IT Managers in the UAE. Whitehats offer a competitive susbcription based "pay as you go" service as well as tailored packages to suit businesses of all sizes and requirements.
Other key features include:-
Centralised protection of both Physical and Virtual systems
Options to recover a single file or entire systems
Supports both Similar and Dissimilar hardware for recovery
Multi-tiered security
Certified data centers with the latest disaster prevention technologies
About Whitehats:
Whitehats is a UAE-based full spectrum Cloud Solution Provider, possessing over a decade's experience in the technology marketplace. The company provides a range of cloud-based services to businesses world wide. Whitehats offer on-premises as well as in cloud backup solutions. Whitehats has a dedicated team of over 30 certified IT professionals.
About Acronis
Acronis sets the standard for hybrid cloud data protection through its backup, disaster recovery, and secure file sync and share solutions. Powered by the Acronis AnyData Engine and set apart by its image technology, Acronis delivers easy, complete and affordable data protection of all files, applications and operating systems across any environment—virtual, physical, cloud and mobile. Founded in 2003, Acronis protects the data of over 5 million consumers and 500,000 businesses in over 145 countries.