App Developers get to work in a managed cloud database
Easily create and maintain applications with enhanced productivity. It has built-in intelligence to quickly learn and adapt while recognizing app patterns. This allows you to create applications which have better data protection, reliability, and leveraged performance. Developers also get to take benefit of a cloud based database.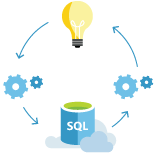 The ability to learn and adapt as per your application
As soon as you start running and testing your application, the SQL Database at the backend starts learning and adapting to improve reliability, data security, and performance. So you do not need to worry about these issues and keep all your focus on the development aspect.
---

Scale performance on the fly, without app downtime
When demand for your app grows from a handful of devices and customers to millions, SQL Database is a database as a service that can scale along with you, on the fly, with virtually no app downtime.
---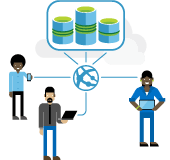 Now you can build multitenant applications
It is never easy to build multitenant apps as an SaaS developer. You always have to make compromises on management, security, and customer performance. When you are using SQL Database as SaaS platform, you do not have to make all these sacrifices. Use SQL Database to monitor and manage multitenant applications and also take advantage of the isolation to manage one customer per database.
---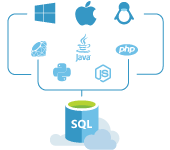 Use the development environment you like
It is important for you as a developer to use the development environment you are comfortable working in. SQL Database lets you develop and connect apps with platforms and tools of your choice. Get the kind of efficiency and speed your business needs.
---

App data security and protection
Use SQL Database to build secure apps within cloud. There are built-in protection features to take care of the physical and operational security. This way, using SQL Database, you can meet even the more challenging regulatory compliances with relative ease.