Bomgar

Bomgar is the worldwide leader in secure, appliance-based remote support. Bomgar's award-winning solutions enable organizations to improve IT support efficiency through secure access and management of virtually any system – Mac, Linux, BlackBerry and Windows Mobile smartphones, plus all versions of Windows. More than 5,000 companies worldwide have transformed their IT support functions with Bomgar's enterprise-class solutions, significantly improving operational efficiency and customer satisfaction, while dramatically reducing costs. Privately held and headquartered in Ridgeland, Miss., Bomgar has offices in Atlanta, San Francisco, Washington, D.C., Paris and London. In 2009, Bomgar was named one of the fastest growing companies in America by Inc. 500.
Secure Remote Support Software
Support Windows®, Linux, Mac®, BlackBerry® and Windows™ Mobile From One Screen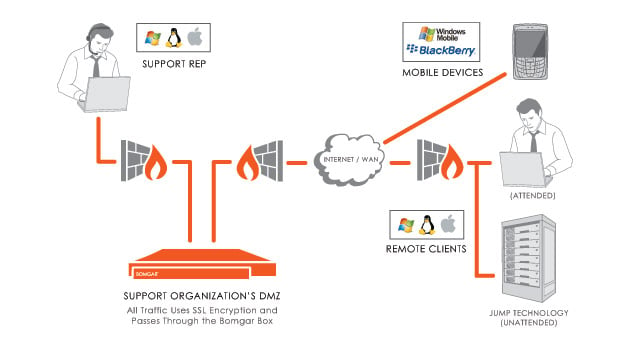 The right remote support solution can dramatically reduce costs and improve the quality of service you provide to your customers/users.
Whitehats is pleased to introduce its partnership with Bomgar, The market leading enterprise remote support solution with 5,400 customers worldwide. The solution integrates with many commercial service desk products – adding remote control, chat, and survey capability. The solution allows support technicians to access and resolve issues on any device, anywhere in seconds right from a service desk ticket.
Increased Staff Productivity 20-30%
Reduced Incident Handling 25-50%
Reduced Call Escalation 10-30%
Improved Customer Sat 10+%
For Small Businesses
(With Standard Licensing)
 

B200


Capacity: From 2 to 20 concurrent support reps
For Enterprises (With Enterprise Licensing)
B300


Capacity: Up to 300 concurrent support reps

B400


Capacity: Up to 1200 concurrent support reps

Virtual Appliance


Capacity: Defined by Virtual Infrastructure