Whitehats now offering Acronis solutions for Google Workspace and Microsoft 365 data backup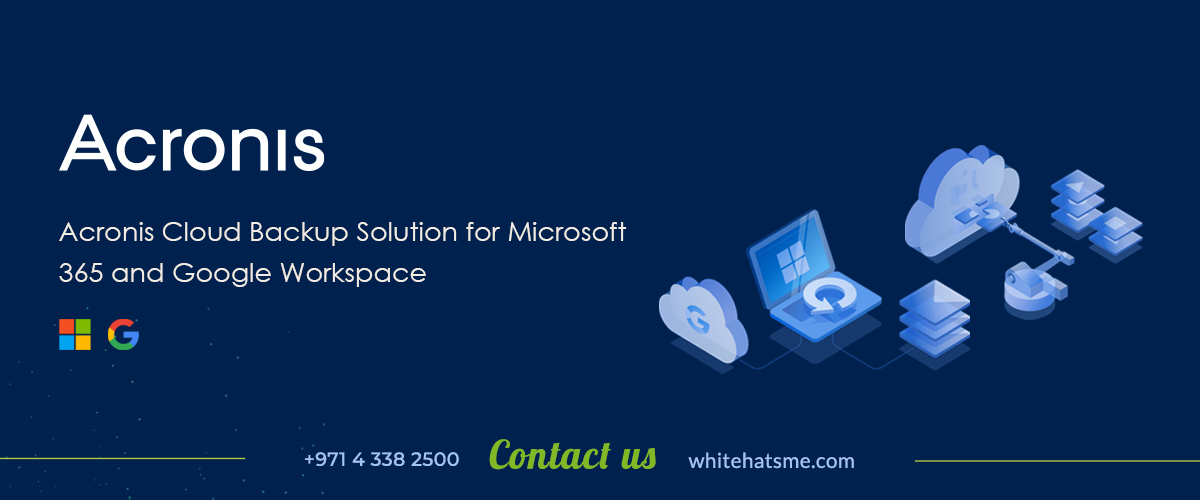 Whitehats LLC has begun offering Acronis's security and data backup solutions for its clients
availing Google Workspace and Microsoft Office 365. Acronis's Cyber Backup solution will aid
businesses in compliance as well as enable speedy access to their secure data. With an intuitive
and modern interface and high-grade disk-level encryption, we now offer an end-to-end and
supervision-free backup management solution for our clients.
These solutions provide the following benefits:
1. They safeguard data from threats and protect from accidental deletion and retention
policy gaps. They can also defend against ransomware attacks.
2. They ensure quick access to data from backup by drilling through to recover individual
files in few seconds. This saving on recovery times keep business running smoothly and
efficiently.
3. They ensure regulatory compliance with retention policies and avoid data loss. The active
backup allows for secure off-site storage.
So, if you are desperately searching for a former employee's email id or a critical business
document that needs to be altered, the advanced search built into the Google Workspace backup
can fetch it instantly due to its metadata and full-text search capability. Furthermore, the
integrated Acronis Notary technology can help validate the originality of Drive files and create
unique digital fingerprints to backup these files for storage in a blockchain ledger. All in all, this
is a secure cloud backup to protect data from Drive, Gmail, Contacts, Calendar etc.
Microsoft 365 users can also enjoy the same benefits with a comprehensive backup for
Microsoft Teams data which includes details of team names, channels, content, mailboxes,
meetings and team sites. Entire teams can be quickly recovered as well as separate items like
meetings, channels, folders etc. Moreover, there is support for backup of Microsoft Exchange
Online emails, attachments, contacts, tasks, group mailboxes and archives. In addition to quick
recovery of this data, the ability to preview email content and send emails from the backup
makes this a powerful tool. SharePoint Online and OneDrive for Business backup is also
supported with the same granular recovery. The deployment is very simple as no local agent-
install is needed since it runs in the secure Acronis cloud.
By offering Acronis's Cyber Backup, Whitehats's service portfolio has become more holistic with
clients benefitting from a more robust data security and backup solution.